The Vibration Monitors are online systems that monitor and diagnose the condition of critical rotating machines. They are designed to improve the reliability of machines that are essential for the operation. The Vibration Monitors can work as standalone systems or as extensions of existing protection systems.
There are 3 versions of the Vibration Monitor available:
  • A3800 Vibration Monitor Compact
  • A3716 Vibration Monitor Standard
  • A3716 Vibration Monitor Plus
Vibration Monitor Compact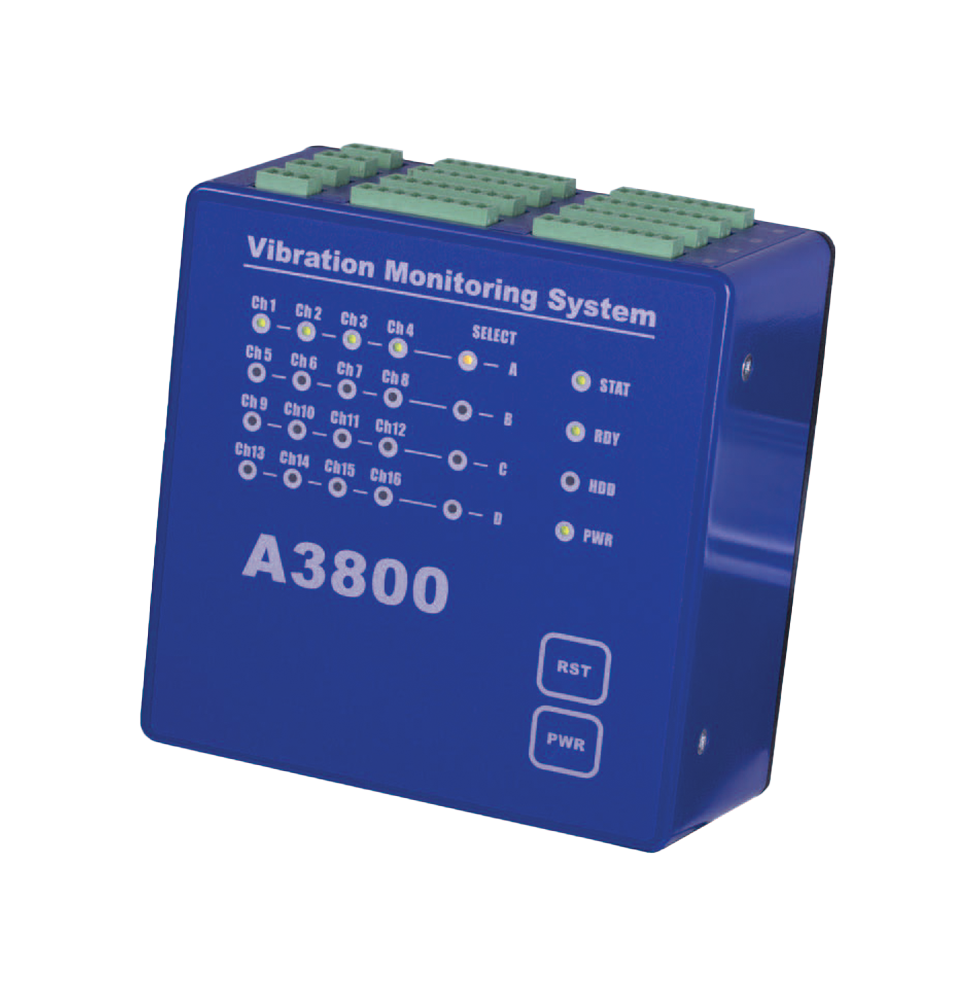 The A3800 Vibration Monitor Compact is an online system that monitors and diagnoses 4 to 16 channels of vibration signals.
The system is compact, allowing it to be mounted on a DIN rail in a switchboard. It has an optional number of AC and DC input channels – 4, 8, 12, or 16. AC and DC channels are separate, meaning the 4-channel configuration can connect 4 AC and 4 DC channels.
The system uses 1 – 4 independent TACHO inputs depending on the number of active input channels. The number of active channels can be increased by purchasing additional licenses.
Each group of 4 channels can perform fully simultaneous measurements. Groups of 4 input channels are switched by an internal multiplexer.
The Vibration Monitor Compact has an optional WiFi module.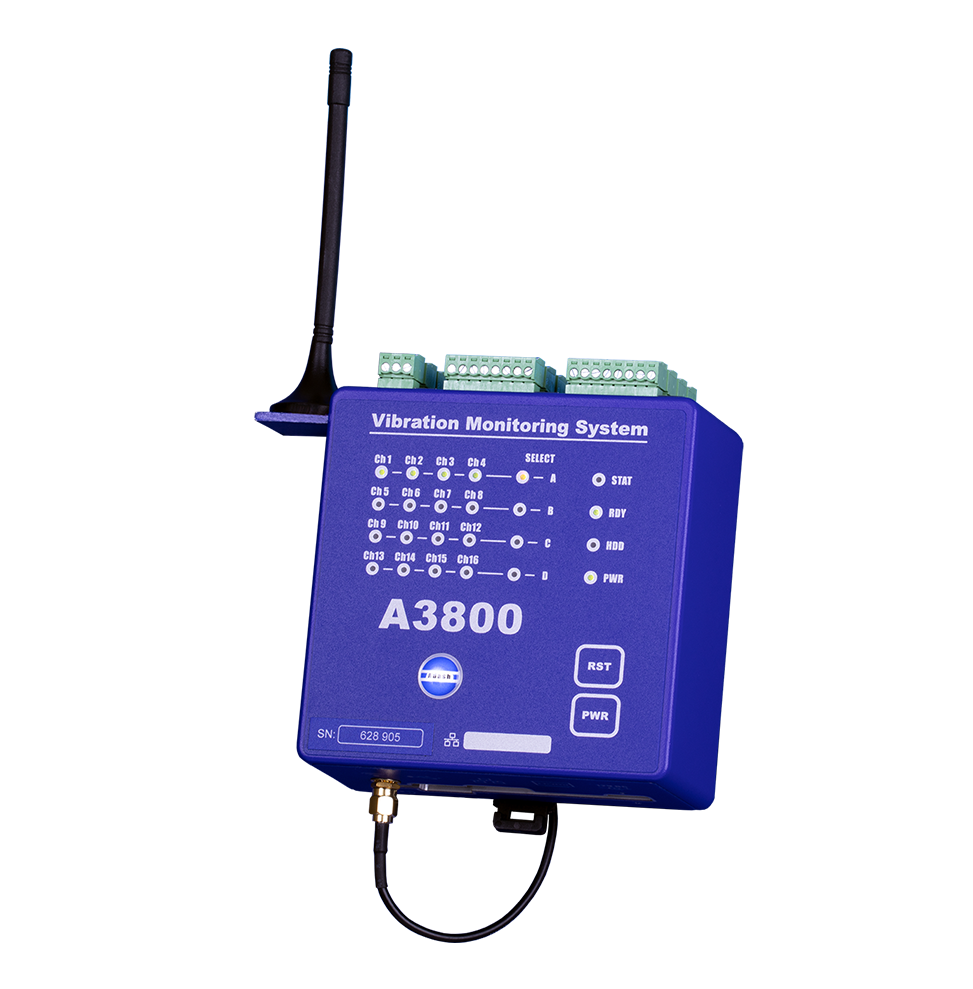 Optional number of input channels

4 – 16 channels AC

4 – 16 channels DC

1 – 4 TACHO inputs

Adaptive algorithm of data acquisition

Compact size, DIN rail mounting
Vibration Monitor Standard and Plus

Vibration Monitor Standard: This version has 16 AC, 16 DC, and 4 TACHO inputs, measured simultaneously. It occupies 2 slots (90 mm height) in a 19" aluminum rack.

Vibration Monitor Plus: This version has the same features as the Standard version, plus 16 relay outputs, 16 (4-20 mA) current loops, and 16 BNC outputs.
It occupies 3 slots (135 mm height) in a 19" aluminum rack.
16 x 4-20 mA (Plus)

16 channels AC

16 channels DC

4 TACHO inputs

16 BNC buffered outputs of signals
from sensors (plus version only)

16 programmable relays outputs
(plus version only)

Adaptive algorithm of data
acquisition
VIB-CT-50044
Vibration Monitor Plus (3U)
16-channel synchronous measurement
VIB-CT-50003
Vibration Monitor Standard (2U)
16-channel synchronous measurement
VIB-CT-50056
Vibration Monitor Compact
4-channel synchronous measurement extendable to 4×4 channel multiplex
VIB-CT-50057
Vibration Monitor Compact License
(license for additional 4 channels)
VIB-CT-50058
Vibration Monitor Compact WiFi Module
WiFi Standard 802.11b/g/n
VIB-CT-50006
Laser Tacho Probe
SEN-CT-16910
Inductive Tacho Sensor
VIB-CT-50059
Data Manager
Setup of Online Systems